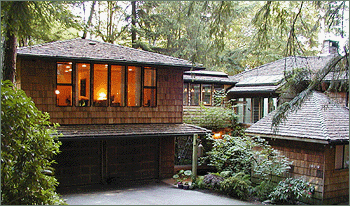 COVID-19 UPDATE!! No Cabbages is up and running! If you are going stir-crazy at home, break away to our cabin... or TREEHOUSE! We have two private rooms separate from the house... one is the 600sq ft. private suite, $135/night, and the other is the Tree House, $100/night. Great place for kids and dogs... 5 minute walk to the beach, 1000 acres of woods with 20 miles of trails. Fire pit, labyrinth... and wood burning pizza oven. Time for some magic. A great breakfast is waiting. Stay safe and well!
Over the hill and through the forest. . . hiding just above and beyond the shores of Puget Sound, is NO CABBAGES BED & BREAKFAST of Gig Harbor, Washington. When you are ready for serenity and spiritual refreshment, your haven in the woods is right here!
Mystical. Magical. These are words that have been used to describe our place in the woods. Rejuvenation is our goal. We offer the gifts of deep sleep, great dreams, and a delicious gourmet breakfast! Come revel in the greenery of our forest. Take a short walk right next door to Sunrise Beach Park where the waves of the Sound gently lap against the shore. Gaze upon majestic Mt. Rainier, stunningly showcased across the waters of Colvos Passage. Then return to relax at the B&B, sit in an old chair in a field of flowers, maybe even walk our Labyrinth to rebalance and reconnect with healing and calming Earth energy.
Vaccinated Please !!!!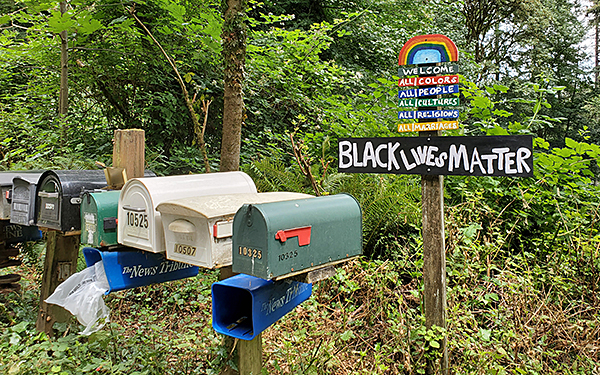 Your hosts, Jamee, Dal and their dog Rock Bama welcome you to their home in the forest. Whether you come from just around the corner or clear across the continent or beyond, you have friends in Gig Harbor. We are looking forward to meeting you, and sharing with you our green paradise.